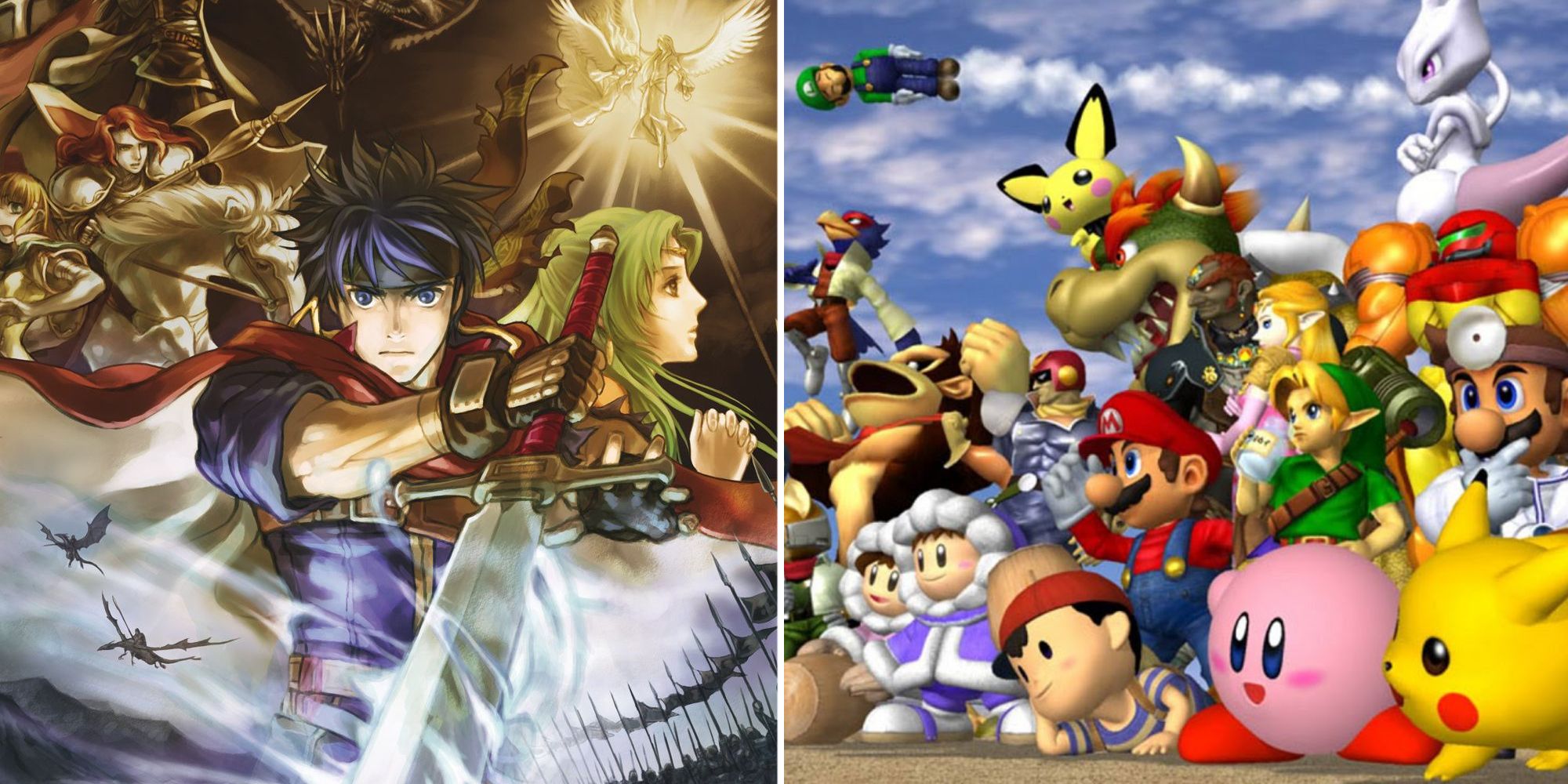 10 GameCube games we'd love to see on Nintendo Switch Online
Nintendo Switch Online has amassed an impressive amount of games and special SP releases since the service launched in 2018. With most Nintendo 64 heavyweights joining the service, fans are eager to find out which system is next. One system gamers frequently request is the N64's successor, the Nintendo GameCube. The GameCube was released in 2001 and struggled to get out of the gate. Gamers were more enamored with the PlayStation 2 and the new Xbox.
RELATED: 10 Game Boy Advance Games We'd Love To See On Nintendo Switch Online
Towards the end of the GameCube's lifespan, its sales overtook Xbox, but fell short of PS2 dominance. One of the reasons the GameCube rebounded was its collection of games. The GameCube contained entries in some of Nintendo's most popular franchises, as well as popularizing new IPs. There's no shortage of GameCube games that would be an amazing addition to Nintendo Switch Online.
F-Zero GX is the newest F-Zero on consoles
F-zero fans are some of the most patient fanbases in gaming. The most recent F-zero the game was japan only F-Zero Highlight in 2004 for the Game Boy Advance. The most recent F-zero games released internationally were the GBAs GP F-Zero and GameCubes F-Zero GX in 2003. Since then, the futuristic racing series has only made crossover appearances in series such as Super Smash Bros. and Mario Kart.
F-Zero GX was not a terrible game. In fact, it sits at a Metacritic score of 89 for its impressive visuals, challenging gameplay, and story mode. F-Zero GX making the jump to Switch would make a lot of sense. If it's not on Nintendo Switch Online, it should definitely be remastered.
Mario Kart Double Dash!! Possibly the closest thing fans will get to 'Mario Kart Switch'
As for Nintendo's first racing franchise, Mario Kart Double Dash!! was released in 2003, shortly after F-Zero GX. Double dash The main gimmick was having two racers on a single kart and allowing players to switch between them. That was key because each character had a special item much like in Mario Kart Tour. Double dash!! also featured co-op, so partners could work together to win races.
RELATED: Every Mario Kart Game Ranked, According To Metacritic
Switching between characters makes Double dash!! a perfect fit for the Switch. This is the basis of what a "Mario Kart Switchshould have been. Even so, the greatest appeal of having Double dash!! on Nintendo Switch Online may be the potential to support 16 players at once, which Double dash!! done through the LAN game.
It would be nice to review Metroid Prime before Metroid Prime 4
The metroid series has gained momentum in recent years. 2D metroid is back in force thanks to Metroid: Return of Samus and the hit of 2021 Metroid Dread. The metroid series has grown so much that the development of Metroid Prime 4 is in progress.
It would be a shame if Nintendo released Metroid Prime 4 with no way to play any of the previous Metroid Prime games on Switch. While a remaster of Metroid Prime the trilogy would be preferred, any way to play Metroid Prime games on Switch would be welcome.
Players could enjoy Pikmin from the beginning before the release of Pikmin 4
It's not only metroid which has experienced a resurgence recently. The pikmine series has also gained momentum. pikmine has seen three different games released in the past five years, including an upgraded version from 2013 pikmine 3.
With Pikmin 4 set to release in 2023, fans should have the option to play the first two pikmine games on the Switch. pikmine was one of the GameCube's best new IPs, and featuring both the original pikmine the games would ensure the entire main line pikmine The series is available on Switch.
Fire Emblem: Path Of Radiance is too expensive to buy
Retro gaming is expensive, and the recent collectibles boom certainly hasn't helped. Even before this boom, fire emblem The GameCube release was hard to find. Purchase Fire Emblem: Path of Shard will currently cost the buyer over $200 for the disc alone.
RELATED: 10 Strongest Fire Emblem Lords, Ranked
2005 shard paththe first one fire emblem game starring Ike, was the first home console fire emblem since Fire Emblem: Thracia 776 for the Super Famicom in 1999. It was also the first home console release outside of Japan. A Nintendo Switch Online version would go a long way to easing the cost burden for fire emblem fans who want to play this fantastic fire emblem hall.
Paper Mario: The Millennial Door feels like it's been locked away for a thousand years
The charming paper mario series has had its ups and downs throughout its lifespan. Lately, many paper mario and JRPG fans have been disappointed by the phasing out of traditional JRPG mechanics in favor of gimmicks and simplicity.
be able to return to paper mario roots has already been a wonderful experience thanks to the original's inclusion on Nintendo Switch Online. Let's hope its sequel, Paper Mario: The Millennium Gate will be quick to follow if Nintendo ever includes GameCube games in its service. Millennium Gate is still stuck on GameCube Island, and it's high time to save it.
The Legend Of Zelda: The Wind Waker And Twilight Princess Must Be On The Switch
Both The Legend of Zelda: The Wind Waker and The Legend of Zelda: Twilight Princess seen amazing HD remasters for the Wii U. With other Wii U games getting Switch ports, The Legend of Zelda fans can't wait to see the contrasting GameCube Zelda join the Switch library. Almost six years after the release of the Switch, fans are still waiting.
If Nintendo doesn't want to go through the effort of transferring the remasters, then including them on Nintendo Switch Online would be enough. Neither GameCube Zelda would have the quality of life updates from the remasters, but it's much better than not having them at all.
Pokémon Colosseum and Pokémon XD: Gale of Darkness were 3D Pokémon adventures long before the change
Pokemon X and Y may have been the first main generation of Pokemon games to be rendered in 3D, but they weren't the first Pokemon RPGs must be 3D. Pokemon Coliseum and his successor Pokémon XD: Dark Wind provided Pokemon fans with full 3D Pokemon experience in the early 2000s.
Pokemon Colosseum and Pokemon XD each features a full single-player story mode and the ability to capture, level up, and manage their own group of Pokemon similar to the main games. Pokemon Coliseum and Pokemon XD including Pokemon Home feature would be a dream come true if Nintendo could make it happen.
There is an old village that needs to be maintained in Animal Crossing
An iconic Nintendo series owes much of its modern popularity to its original GameCube release. animal crossing originally released as a Nintendo 64 game only in Japan in 2001. animal crossing was quickly improved and ported to the GameCube where it was released internationally soon after.
RELATED: Every Game In The Animal Crossing Series, Ranked
Since, animal crossing became one of Nintendo's biggest franchises. Its simple and relaxing gameplay makes it both easily accessible and easy to use for short bursts. The ability to play the original animal crossing on the switch would be a really fun way to see how the animal crossing series has come over the past 20 years.
Super Smash Bros. Melee should be the number one priority
No game is more synonymous with GameCube than Super Smash Bros. Melee. Melee has long been the king of Super Smash Bros. series with its passionate fans who still hold tournaments to this day. Melee should be the number one priority if Nintendo were to include GameCube in Nintendo Switch Online.
Melee is a timeless game that can provide endless hours of fun with your friends and family. Since Nintendo Switch Online has included online features for many older games, Melee gamers could finally live their dream of having an official way to play Melee on line.
NEXT: 10 Incredibly Confusing Facts About Nintendo, Ranked