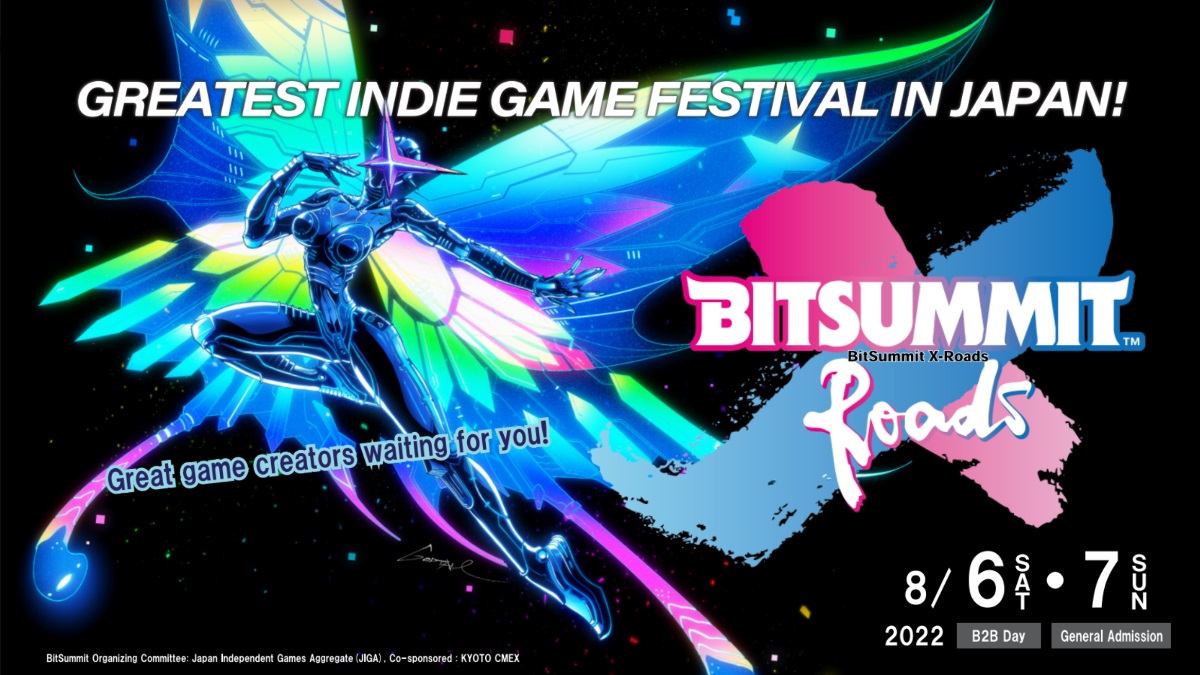 BitSummit X-Roads sponsors revealed including PlayStation, Cygames and Nintendo
The sponsors of Japan's premier indie gaming event, BitSummit X-Roads, have been revealed. A slew of sponsors are returning to participate in this year's event, including PlayStation, Cygames, Inti Creates, Nintendo, and Shueisha. Additionally, Nissin, PlayStation, Shueisha, and Shogakukan are teaming up to present the BitSummit X-Roads Sponsor Awards.
Fans and media professionals should read all the latest information below, provided by BitSummit:
KYOTO, JAPAN – June 24, 2022 – BitSummit, the pioneering indie game showcase that exemplifies Japan's creative spirit, is back in gaming with its first weekend-long in-person public event since the pandemic began with BitSummit X-Roads (pronounced "crossroads"). Taking place August 6-7, 2022, the first day of the event (Saturday) is for industry professionals only, while the second (Sunday) is open to the public. Additionally, BitSummit announces the return of sponsor-supported rewards alongside ticket sales for the event, which are available starting immediately.

Four sponsors will handpick and award prizes to this year's brightest and best independently developed games. Sony Interactive Entertainment, a longtime BitSummit supporter and champion of independent game developers, will gift a PlayStation 5 console to the PlayStation Award winner. New independent game publisher Shueisha is promising a prize of 200,000 yen for the Shueisha Game Creators CAMP Award winner, while Shogakukan will include a page in its monthly magazine featuring the CoroCoro Comic Award winner. Meanwhile, instant noodle giant Nissin will select the winner of the prestigious Cup Noodle Award. Xsolla, BitSummit's premier supporter, also pledged $10,000 to the BitSummit judging panel to be distributed among the official winners of the 2022 show's game prize.

Nintendo, Cygames, Devolver Digital, Raw Fury, Thunderful Games, Microsoft Japan, Inti Creates and more are returning in sponsorship roles for BitSummit X-Roads.

BitSummit is also announcing its partnership with MeetToMatch, the industry's leading business matching and event experience platform, to provide all BitSummit X-Roads industry exhibitors, sponsors and attendees with a dedicated business meeting and organizational platform to help navigate the living room.

General admission tickets and business tickets go on sale starting today. BitSummit is opening its doors to local and visiting indie game enthusiasts for the first time since 2019 and will apply strict COVID restrictions and safety measures to ensure a safe and secure environment for all exhibitors, developers and guests.

For more information on Business Tickets and Regular Visitor Passes, please visit the official BitSummit website.

BitSummit X-Roads takes place on Saturday, August 6 and Sunday, August 7, 2022. Operating hours for both days are 10:00 a.m. JST to 5:00 p.m. JST. BitSummit X-Roads will broadcast from the main stage on both days, live on YouTube, Twitch, TikTok and Bili Bili, in Japanese, English and Chinese.

Additional information regarding participating titles, special guest speakers, streaming booths, influencers and sponsors will be revealed in the coming weeks. For more information, please visit the BitSummit website and Discord server or follow BitSummit on Facebook, Twitter, and Instagram. Press and influencer registrations are now open here until August 5, 2022.
Finally, BitSummit X-Roads is scheduled for August 6-7.