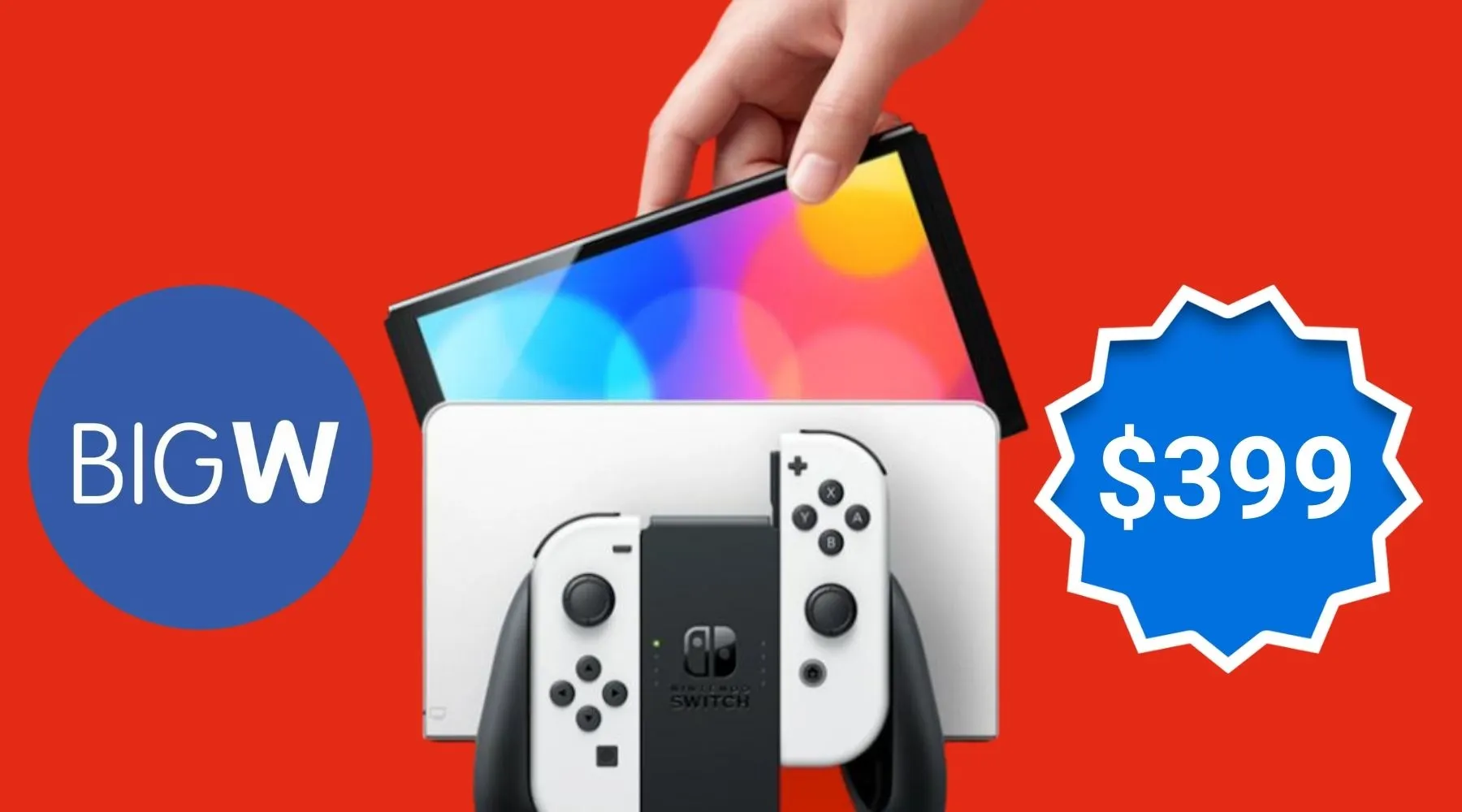 EOFY Deal: Save $139.80 on Nintendo Switch OLED at Big W
Here's how to get the Nintendo Switch OLED for $399.20 during the EOFY 2022 sales bonanza.
---
Save $139.80 on the Nintendo Switch OLED
The Nintendo Switch OLED is selling on Big W's eBay store for $399.20. That's a saving of nearly $140 off the RRP of $539. To redeem the offer, use coupon code PLFY20 at checkout.
---
End of Financial Year (EOFY) sales are back for another year with thousands of products available at dramatically reduced prices. You can check out some handpicked highlights here.
One of the best deals we've spotted so far is from the official Big W eBay store. For a limited time, you can get the Nintendo Switch OLED for $399.20. That's a commendable savings of around $139.80. To get the full discount, use the promo code PLFY20 at the register.
It's easily the best Switch OLED deal we've seen. Typically, you can expect to save around $50 during sale periods such as Black Friday. A discount of over $100 is practically unheard of. (Amazon currently has it for $489.00, for example.)
There is however a catch. To get the above price, you must be an eBay Plus member. This is eBay's premium subscription service that offers additional discounts, exclusive shopping benefits, and free shipping on millions of eligible items.
eBay Plus costs $4.99 per month, but you can sign up for a 30-day free trial and get the Switch deal without paying anything extra. (Remember to cancel your subscription before the 30-day trial period expires.)
How to get the full discount
To receive the full discount, log into your eBay Plus account and use promo code PLFY20 at checkout. Available stock would be limited, so be sure to get started soon.
---
Nintendo Switch Game Deals
If you buy a Switch, you'll need video games to play on it. Here are the best deals you can get at Amazon and Target:
You can check out more Nintendo Switch deals and games here.
About eBay More
eBay Plus is a subscription service that offers free shipping, exclusive offers and other benefits to Australian eBay buyers. This includes 5% off Coles online orders when you shop on eBay and spend over $49. The service costs $4.99 per month. To learn more, read our in-depth guide to eBay Plus.
About EOFY sales
The year-end buying period technically takes place on June 30, but many sales will start early (and stretch into July). We expect sales on everything from home appliances and video game consoles to fashion and beauty products. Bookmark our sales hub above and start checking back every few days for new handpicked deals.
To see an even more comprehensive list of current deals, you can head over to our year-end sales guide.
---
Looking for other ways to save? Check out today's top 5 deals and our huge discount code database.