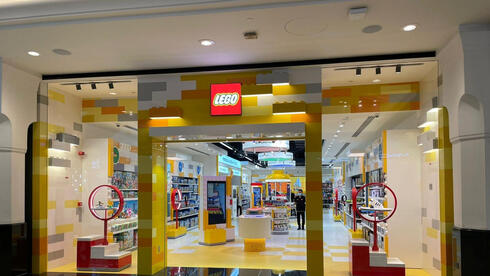 Lego will open stores in Israel: "We will offer competitive prices"
LEGO opens stores in Israel. Calcalist has learned that the first store will open this summer in Tel Aviv. The Danish giant plans to open stores across the country, including in malls. The size of the stores will range from 150 to 250 square meters and it is estimated that 3 million shekels will be invested in each store.
Ilanit, an Israeli company will import the toys to Israel, but the concession to open stores in Israel has been granted to entrepreneur Eran Tor, who established the iDigital retail chain and the Nintendo games store in Tel Aviv. Previously, Tor was CEO of Reckitt Benckiser PLC and held various positions at Unilever, in Israel and around the world.
LEGO Stores are designed and operated by LEGO-UK. "I work directly with the supplier abroad. "I'm part of the stores branch, which is separate from the main LEGO branch," Tor told Calcalist. "It took me 10 years to convince Nintendo to open a store in Israel. With LEGO, it took me eight years to convince them, and they saw an opportunity and potential in the Israeli market. According to Tor, "Israeli consumers love the LEGO brand, but it doesn't capitalize on its full potential here in Israel. We don't have the same experience here that exists elsewhere in the world, and with the company we decided to launch the stores here in Israel."
The LEGO Group operates 678 stores worldwide, as well as LEGO.com, the company's online digital platform. During the pandemic, brand sales increased and the company made a strategic decision to increase its presence in global stores and enter new markets in new countries.
"Cheaper than current rates"
LEGO is one of the most popular brands in the world and is sold in Israel at an extremely high price compared to its prices elsewhere. This has made purchasing the product in Israel an impractical choice for families with young children, leading to more Israelis buying LEGO toys abroad, whether on international websites or abroad. There is also a parallel import problem. Today, anyone can buy LEGO from several online platforms, as well as from some chain toy stores, which do not buy their toys from the official importer in Israel.

LEGO is an expensive brand. How will you compete with parallel import?
Tor: "We will solve this problem by making the prices considerably more accessible, and the stores will offer an experience that LEGO consumers in Israel do not currently enjoy. Prices will be as they should be. We are opening official LEGO stores, and the prices will be much lower than the prices at which LEGO is currently sold in Israel.
The government is proposing an import reform that will further stimulate personal imports from abroad. What is your opinion?
"Israel is an expensive country, and I am not the person who can structurally change the Israeli market, customs, taxes or logistics costs of transporting items from around the world to Israel. I intend to change what I can, and I will change the experience, making sure Israeli consumers won't need to buy LEGOs in London. We want to make the brand here much more accessible than it has ever been, and offer a selection that does not exist in Israel, at a drastic price. Will it be cheaper than in London or Paris? Sometimes, but with higher exchange rates, you never know. I believe LEGO is an exceptional company. We intend to be as competitive as possible.
Isn't the opening of stores, especially after the Covid crisis, problematic?
"If I didn't think it was an important business opportunity to compete with Israeli offers, I wouldn't pursue it. There is huge potential for growth and brand building in Israel through physical stores, and we plan to execute it quickly and are determined.
Since the outbreak of the pandemic, LEGO has experienced substantial growth in sales and demand. According to Tor: "This demand is not something that can be satisfied over time. We are talking about record demand figures, and today almost 30% of LEGO consumers are adults, both men and women. About 30-40% of this variety can only be found in official LEGO stores. During the pandemic, products on shelves and online sold out within 24 hours. This growth in sales was not caused by the needs of children, but also by adults who wanted to play with LEGO. They had more free time. And today, a respectable part of LEGO customers are adults.
In addition, Tor also stated that "only between 10% and 20% of LEGO products are offered in Israel. The full range of products does not exist in Israel. Part of maintaining a significant shopping experience is to offer customers a full selection of products, and our stores will also offer limited edition sets that will not be sold in other stores and chains in Israel.