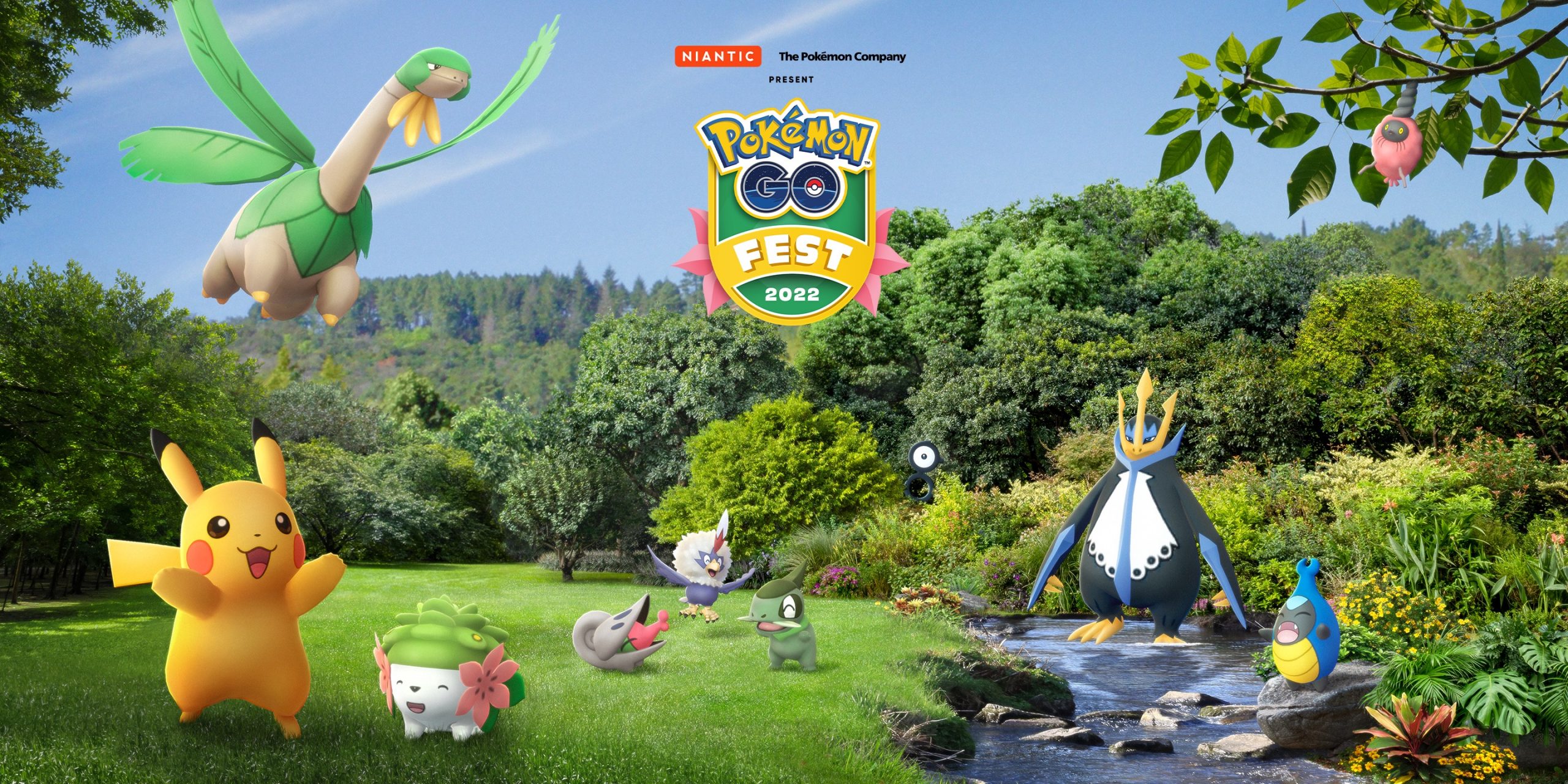 Pokémon GO Fest 2022 Event Details Announced, Tickets Now Available
Nearly a month after its first announcement, Niantic has leaked even more details about this year's Pokémon GO Fest. The event, which follows on from the previous two Pokémon GO Fest events, will not be limited to certain locations and will feature free and paid ticket options.
Niantic outlined what trainers can expect for Pokémon GO Fest 2022 via the official Pokémon GO blog this week. The event will take place over two days (Saturday June 4th and Sunday June 5th) and will be followed by a special final event which will take place months later on Saturday August 27th (which will be paid and will cost US$10.99, but GO Fest 2022 ticket holders will receive the ticketed version at no additional cost).
For the first day of Pokémon GO Fest 2022, it will follow a similar layout compared to previous events. From 10:00 a.m. to 6:00 p.m. your local time, usually rotating hours will be in effect alongside themed confetti effects. The habitat themes for this year are city, plains, rainforest, and tundra. Some Pokemon – including a new Pokemon event (an unannounced costumed Pikachu) and shiny Pokemon that will be available in-game for the first time (Shroomish, Numel, Karrablast, Axew, and Shelmet) – are described in the blog in addition to what Pokémon will be available through Incense. For Unown collectors, get excited because Unowns B, G, O, and U will spawn during the event via Incense and all will have shiny forms available (so grab yourselves).
As for the second day of the event, it's all about Raid Battles! Niantic teases that "a certain Pokémon will debut in Pokémon GO" via Five-Star Raids. The raid list is a little short right now, but we'll definitely know more as we get closer to the event. What Niantic will disclose is that trainers, regardless of ticket purchase, will have access to a special research short story and trainers will be able to catch Pokemon that were featured the day before.
Throughout the event, Trainers will have access to a free Pokémon GO Fest 2022 t-shirt for their avatar and can participate in the Global Challenge Arena (although Day 1 is limited to ticket holders).
With all of this information, Niantic has updated the Pokémon GO Fest site with this year's information, including a handy chart that breaks down the differences between the free version of the event and the paid version. Trainers who want to experience the full event will want to pick up a Pokémon GO Fest 2022 for US$14.99″ (or the equivalent price tier in your local currency, plus applicable taxes and fees) through Sunday. June 5, 2022, 4:00 a.m. local time Tickets cannot be purchased with PokéCoins Tickets for this event are non-refundable (subject to applicable law and exceptions set forth in the Terms of Service) .
The Pokémon GO Fest 2022 fun won't stop after June 5, as in-person events will take place in the United States, Germany, and Japan (which are subject to change) in July and August. Ticket details for these events have yet to be announced.