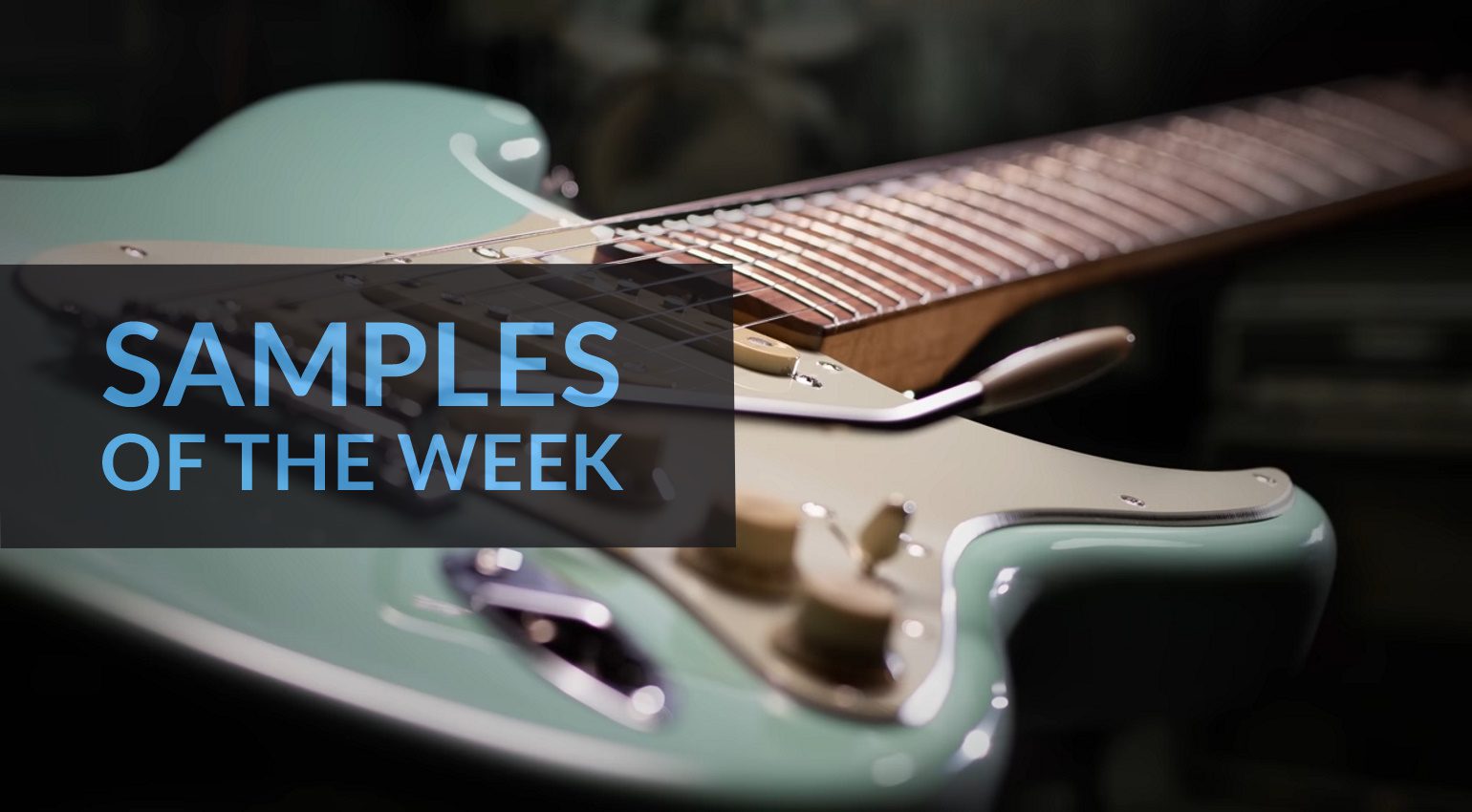 Samples of the week: sounds, instruments, offers, giveaways
Samples of the week! We bring back 6 virtual basses from multi-instrumentalist Dan Dean's collection, a sample-based replica of a Fender Stratocaster, and a very interesting Kontakt instrument for experimental sounds. Fans of free downloads should check out the new LABS instrument, Tape Piano. Read more below…
Tracktion Dan Dean Essential Bass – Samples
This Tracktion plug-in provides six sampled bass guitars from the collection of musician, producer and developer Dan Dean. His credits include BB King, Peggy Lee, Dionne Warwick and drummer Alex Acuna – I wouldn't doubt his ability to spin a groove!
For the instrument itself, an intuitive user interface gives you access to important parameters such as attack, release, glide and release noise. An amp simulator, effects section and over a hundred presets are available for further sound processing. A variety of slides and harmonics can be controlled from the mod wheel and key switches in an effort to achieve realistic articulations.
The plugin works in 64-bit VST2, VST3 and AU formats on macOS 10.11+ and Windows 10+. PDF instructions and a 90-day free trial are available on the developer's website. The reduced introductory price of USD 70 applies until July 15. The normal price is 99 USD.
Native Instruments Session Guitarist – Electric Mint
Electric Mint gives you the sound of a world famous electric guitar – a simple Fender Stratocaster. Native Instruments and Drumasonic sampled a model made in the USA in the 1960s. The lush description of "silky licks and soulful grooves, driving solos or hard-hitting funk riffs" sounds about right. The Strat sound is timeless and it's nice to have it in a keyboard-friendly format for producers who love it. For this, the Kontakt instrument comes with enough patterns and MIDI chord progressions to start a song in almost any style.
Native Instruments has also thought about sound shaping possibilities. You can adjust the sound of virtual mics, modify a dynamic vintage mic, and apply various amp and cabinet emulations. There's probably a bit of Guitar Rig 6 here, which I would totally agree with. You can choose between finger-picked or plectrum-picked articulations while the sound engine supports hammers, pull-offs, fret noise, legato, and other appropriate phrasing details. You can manually determine the character of muted notes and accents between upbeats and downbeats, as well as swing and humanize settings. You can also add bends with the virtual tremolo lever and finger tremolo.
The instrument includes 71 presets ranging from clean and direct sounds to crisp and distorted sounds. Electric Mint works in the free Kontakt Player and the full version of Kontakt 6.7+. It includes 222 patterns and 53 ready-to-use songs in a 14.6 GB download. The library costs 99 EUR.
sonic dust plankton
Plankton is a Kontakt instrument that looks very fun. It strives to emulate an organic music system somewhat inspired by the music game Electroplankton for the Nintendo DS. If you like this game or the loops, polyrhythms, generative music, and surprise crashes, you're going to like this!
Plankton incorporates a sequencer and an algorithmic playback engine as well as a suite of different effects. It features 83 specially recorded impulse responses to create both natural and "impossible" spaces for each joint. The samples themselves are from a Novation Summit, a Hohner Pianet T, a Cramer grand piano, a Celesta and Dulcitone and a Hammond BR. So some variety right there!
The instrument includes 1500 samples and 50 snapshots in a 1.1 GB download. The full version of Kontakt 5.8+ is required. The normal price is 48 EUR, but you will only pay 33.60 EUR until July 18, 2022.
Free: Spitfire Audio LABS Tape Piano Samples
A piano recorded on an old tape recorder? Of course, bring it! Spitfire Audio presents an irresistible combination with the latest entry in its popular LABS series. Tape loops, echoes and a magnetic card reader were used during recording. The sounds obtained are pleasant and "wobbly". The instrument runs in the free LABS reader, which is available as a plug-in for macOS and Windows. You will find all the additional information on Spitfire Audio.